DAYDREAM BELIEVERS
Which Newsie? Aaron Lohr (Mush)
Who's his Character? Mickey Dolenz
The Plot: In 1966, producers Bert Schneider and Bob Rafaelson come up with the idea of creating a TV show that would feature the American answer to the Beatles, The Monkees. Eventually, four young men are chosen for the roles. With the aid of a successful music producer and able TV promotion, the Monkees become a sensation. However, that success is tainted, to the chagrin of the band, as they find themselves labeled as talentless phonies. This film covers the band's frustrating struggle to prove their detractors wrong as they struggle to earn some artist legitimacy. Meanwhile the band have their internal tensions as various members struggle to decide what is really important to them, simple material success, or having real artistic respect for their work.
My Thoughts: I personally loved this movie 1. cause I've always been a Monkees fan 2. Because Aaron Lohr is in it and 3. Just because it was a fun movie. I had Monkees songs stuck in my head for a week after watching this movie for the first time (which isn't a bad thing). But it was very good, very fun and light-hearted.
How often is he in it? Pretty much every scene :o)
Warnings: None really. Just one scene they get high. And watching Aaron Lohr get high is hilarious to me.... but may be offensive or whatever to other people. So, just a warning.
SWING KIDS
Which Newsie? Christian Bale (Jack)
Who's his character? Thomas Berger
The Plot: In Nazi occupied Germany, the youth of the nation were pressed into joining a pro-Nazi Youth Leauge called the "Hiterjugend", or Hitler Youth. A group of rebel teenagers, however, chose to defy Nazi directives and grew their hair long and listened to American music while calling themselves the "Swing Kids." This is the story of one group of Swing Kids and how Nazi rule and persuasion tore them apart and set them against each other.
My Thoughts: I absolutely love this movie. It's so incredible and so well done. Christian Bale even dances and sings a little in it! Anyways, it's such a powerful movie, I was dancing and laughing in the beginning and hysterically crying at the end. All I can say is "wow." Amazing movie. Definitely worth a watch. Swing Heil!
How often is he in it? Alot. He's a main character.
Warnings: It's very sad at parts so be prepared with lots of tissues.
SLC PUNK!
Which Newsie? Michael Goorjian (Skittery)
Who's his character? Heroin Bob
The Plot- It's about 2 punks, Stevo and Bob, living in Salt Lake City in 1985 who become sick of their dull ordinary lives so they make plans to change things and create anarchy.
My Thoughts- It's a good movie.... alot deeper than I thought it would be. Mike is HILARIOUS. I watch his scenes (which are plentiful) over and over again and i never stop laughing. It's kind of a confusing movie, and made in a very different way, but I say watch it. It's fun to see Mike in a movie like this, and the movie itself is pretty good.
How often is he in it? A good amount. He's not THE lead.... but he is the supporting lead so he's in most of the scenes.
Warnings- It is rated R for a good reason. There's alot of language and it's DEFINITELY NOT a film for younger newsies fans. Another thing, the ending is very sad (and i will try to say this without giving away the ending) but if you love Mike as much as I do, you will cry.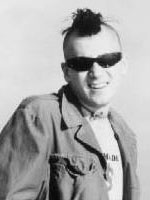 RENT
Which Newsie? Aaron Lohr (Mush) and Kevin Stea (Swifty)
Who's his character? Aaron plays an HIV positive Steve and
Kevin Stea plays a Bohemian named Noodles.
The Plot- Rent is a very mature musical that follows "a year in the life" of 8 friends, dealing with problems such as AIDS, death, poverty, drugs, and homelessness.
My Thoughts- Well, I'm a HUGE Renthead, so I can't say enough good things about it. The movie is FANTASTIC and the songs are great, the plot is hard to follow (for those who aren't familiar with the show) but none the less it is an AMAZING movie. What makes it even better than it already is is Aaron Lohr and Kevin Stea . It's an amazing movie and definitely worth a watch and an obsession :o)
How often is he in it? Aaron Lohr is only in 4 scenes (Life Support, Will I, the funeral, and Without You (but you only see the back of his head in without you.)) But he does open his own song (Will I)!
Kevin Stea is only in 2 scenes (La Vie Boheme and the funeral).
Warnings- Again, this is not a movie for younger Newsies fans. It is a very mature musical. The ending of this is also extremly sad, so be prepared with lots of tissues.
EMPIRE OF THE SUN
Which Newsie? Christian Bale (Jack)
Who's his character? Jim Graham
The Plot- Based on J. G. Ballard's autobiographical novel, tells the story of a boy, James Graham,whose privileged life is upturned by the Japanese invasion of Shanghai, December 8, 1941. Separated from his parents, he is eventually captured, and taken to Soo Chow confinement camp, next to a captured Chinese airfield. Amidst the sickness and food shortages in the camp, Jim attempts to reconstruct his former life, all the while bringing spirit and dignity to those around him.
My Thoughts- I was a little skeptical at first about watching this movie because i thought it would just be alot of history but eventually caved and was so glad I did. After getting over how adorable Christian Bale was in his first ever movie... the real message of the movie and how believeable the script and actors were really made me realize what it must've been like. It's very good, and makes you finding yourself still thinking about it days later.
How often is he in it? Pretty much every scene. He's the lead character.
Warnings- It is chock full of history.... so if your going to watch it, make sure you are awake enough to really follow it, because it can get confusing if your not really paying attention.
D2: MIGHTY DUCKS
Which Newsie? Aaron Lohr (Mush)
Who's his character? Dean Portman (one of the Bash Brothers)
The Plot- Gordon Bombay is forced to withdraw from the minor hockey league with a knee injury. Much to his surprise, he is given the job of coach of Team USA Hockey for the Junior Goodwill Games in California. With most of the Ducks and a few new players in tow, he sets forth for LA. All appears to be going well for a while, but the hype of Hollywood starts to get to Gordon, and he is distracted when Iceland, the favourites to win the title, appear on the scene.
My Thoughts- I think we all have probably seen this movie at one time or another growing up... I know I used to see it all the time in my old ice rink. But still, watching it as a teenager is a completly different experience than watching it as a kid. You appreciate the hottness more :o) No, but seriously... it's a cute movie and if your an Aaron fanatic like me it's worth watching just to see him.
How often is he in it? He's not a main character, but you do see him alot.
Warnings- There really are none. It's just a classic Disney movie.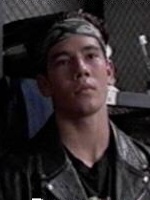 HONEY
Which Newsie? David Moscow (David)
Who's his character? Michael Ellis
The Plot- In a poor neighborhood, the choreographer Honey Daniels (Jessica Alba) works in a record store during the day and as a bartender in a night-club in the night-shift, and teaches dance to teenagers of her community. She dreams to be successful as a video-clip dancer. When she meets the video director Michael Ellis (David Moscow), she believes that her dreams have come true. When Michael discloses his real intentions with her, she decides to struggle for making her dream come true.
My Thoughts- I actually saw this movie before I saw Newsies and before i knew who David Moscow was (gasp!) but I remember I loved it. It's a really good movie, and you'll love it alot more if your a dancer (like me).
How often is he in it? From what I remember he's in it a good amount. His character comes into the plot a little ways into the movie, but stays till the end.
Warnings- Nothing really. It's what you'd expect from a PG-13 movie.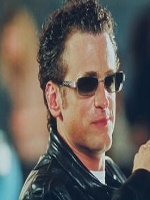 THE LAND BEFORE TIME (the first one)
Which Newsie? Gabriel Damon (Spot)
Who's his character? He's the voice of Littlefoot
The Plot- An orphaned brontosaurus named Littlefoot sets off in search of the legendary Great Valley. A land of lush vegetation where the dinosaurs can thrive and live in peace. Along the way he meets four other young dinosaurs, each onea different species, and they encounter several obstacles as they learn to worktogether in order to survive.
My Thoughts- The movie every normal kid grew up on! lol but no seriously, it's the classic kids movie, very adorable, and has everything you'd expect a kids movie to have. It's so funny to hear Gabe's voice because he was 12 at the time.... and his voice was VERY high.
How often is he in it? He's the leader so you hear his voice in pretty much every scene.
Warnings- Absolutely none. Just be prepared for the immense "aw" -ing you will do after hearing Gabe's voice.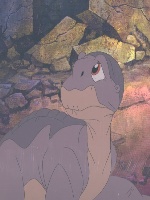 BIG
Which Newsie? David Moscow (David)
Who's his character? Young Josh
The Plot- A young boy makes a wish at a fairground machine to be big. He wakes up the following morning to find that his wish has been granted and his body has grown older over night. But he is still the same 12 year old kid on the inside. Now he must learn how to cope with the unfamiliar world of grown ups including getting a job, and having his first romantic encounter with a woman
My Thoughts- A very good movie. David's sooo cute! The movie itself is really funny, and very well made. It's a classic.
How often is he in it? Not that much, sadly. He's in the beginning and then at the end, but other than that, nothing else.
Warnings- None. Enjoy.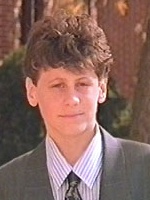 ANALYZE THIS
Which Newsie? Max Casella (Racetrack)
Who's his character? Nicky Shivers
The Plot- A psychiatrist by the name of Ben Sobel gets a "challenging" patient, none other than a Mafia Boss, Paul Vitti. The Problem with this patient is that he is facing frequent emotional breakdowns and he need to solve this soon before his mafa meet. And Paul Vitti keep barging in on Sobel's life, even on his wedding day, and soon Sobel get involved with the FBI. A friendship is formed when Sobel took a bullet for his patient.
My Thoughts- I wasn't a huge fan of the movie when I first saw it. Max's part was hilarious (as were other parts) but the movie as a whole didn't do much for me. But who knows, I haven't seen the movie in a while and maybe if I rewatched it I may like it.
How often is he in it? Only one scene (that I know of...) If you have the DVD and just want to watch his scene it's called "Realtively Painless"
Warnings: It's rated R for a very good reason. Language, violence, etc. Definitely not a wholesome "family movie". Probably one of the farthest things from it.
PERFECT ASSASSINS
Which Newsie? Aaron Lohr (Mush)
Who's his character? Billy Collins
The Plot: When Dr Ben Carroway is involved in an assassination where the killers commit suicide once trapped he finds that the killers have no criminal record. However they are all registered missing children and he sets on a journey of discovery with one of the killer's sister and a mob hitman. In Mexico they find a mansion in large grounds belonging to disgraced Dr Greely where children are taught to be killers by a regime of mental conditioning and they plan to put an end to the conspiracy.
My Thoughts: Wow. Wow wow wow. I have to say.... as much as I love Aaron... this was a bad movie. The only reason I watched it was because he was in it. But as bad as the movie is.... Aaron is so hot and so convincing it's worth it to watch it. This is Aaron like you've never seen him before. He crys, shoots people, is in a chase scene, kicks some ass, and so much more. This movie made me love him even more than I already do (and I didn't think that was possible!)
How often is he in it? An okay amount. The only real word he says is "Go!" cause his character can't really speak. But still his scenes are great.
Warnings: This movie is very innapropriate for younger ones. Theres alot of killing, cursing, etc. So beware. Also.... be prepared with 458293758937895 boxes of tissues and something to soothe your throat after you scream at the TV. (well.... at least that's what I needed.)